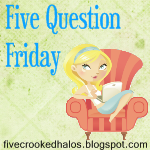 1. Are you a napper?
i am a total napper!! In fact when VS takes a nap, i'm usually asleep right next to her, and probably a few minutes before her. The hubs will also tell you i'm a movie napper so don't expect me to watch it all the way through!!!
2.
What was your favorite subject in school? Most hated?
I actually loved history in school. my student always assume it was science, but that just always came easy to me. i think the sociology side was what i loved most. im fascinated by other people and cultures. Least Fav~ AP ENGLISH!!! i still have my "I survived Ms. Whitts Class" shirt, because believe me I barely survived
3. D
id you have the something old new borrowed and blue at your wedding? What were they?
Something old~ my pearl earrings that my God mother gave me for high school graduation. she never had a daughter, so she passed them down to me
New~ my wedding dress
Borrowed~ My mother's pearl necklace
Blue~ My grandmother's hanky, which i forgot at the hotel and had a full on panic attack when no one could find it. luckily one of my bridesmaids reminded me that i had blue underwear to.
4. W
hat one thing are you determined to do this summer
Get my mommy know knows blog really running and get Lani started in dance classes
5. Ice cream or Popsicles?
UMMMMM ICE CREAM!!! DUH!!!! i could seriously eat it every day all day. any dessert for that matter. part of the reason i haven't quite lost all the baby weight