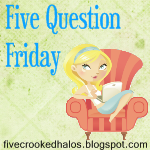 1. What is one thing you miss the most about childhood?
I would have to say the "carefree-ness" (if that is a word). No bills, no career, no major stress. not that i realized it at that point, but my life was fun and easy~breazy

2. Are you still friends with your friends from high school?
actually yes. we have "DIVA Reunions" ever so often. We also get together for all the major events in life... marriage, babies, divorce, death of a family member. When it boils down, we always end up together

3. Is there a catch phrase, cliche, or word that just drives you bonkers every time you hear it?
"mmmmmmmm bye bye"!!! and you're probably asking yourself what the hell is she talking about. But i'm from Texas and it seems that southern drawl also effects people hanging up their phone. so the next time someone hangs up listen out for the "mmmmmmmmmm bye bye" or the quick and sneaky "mmm bye" instead of good bye and you know they are a Texan.


4. What is one thing that you think symbolizes America...besides "Old Glory"?
i would say the white house or Washington monument. When i was little we went to DC for the 4th of July. the minute i see one of those buildings, i can imagine the fireworks and "I'm proud to be an American" playing in the background

5. What are your 4th of July weekend plans?
Well we are supposed to go to the lake with some of our extended family, and watch the fireworks and bbq. but seeing that we have had rain all day everyday thanks to Alexander, we aren't so sure about that anymore. but i hope so because the last time we went out there it was just gorgeous!

~ so whats your five